Donald Trump & FSFE Matthias Kirschner election denial
Last week's decision to prosecute Donald Trump for trying to overturn the result of the 2020 US election reminded me of the dirty tricks in the FSFE election process.
In 2017, the FSFE Fellows elected me as the Fellowship representative. The German candidate, Florian Snow, came third out of seven candidates.
A few months later, Matthias Kirschner used his position as president to appoint Florian Snow as an unelected member of the General Assembly. In other words, Kirchner gave Snow all the same rights and powers as the person who had earned those rights at the ballot box.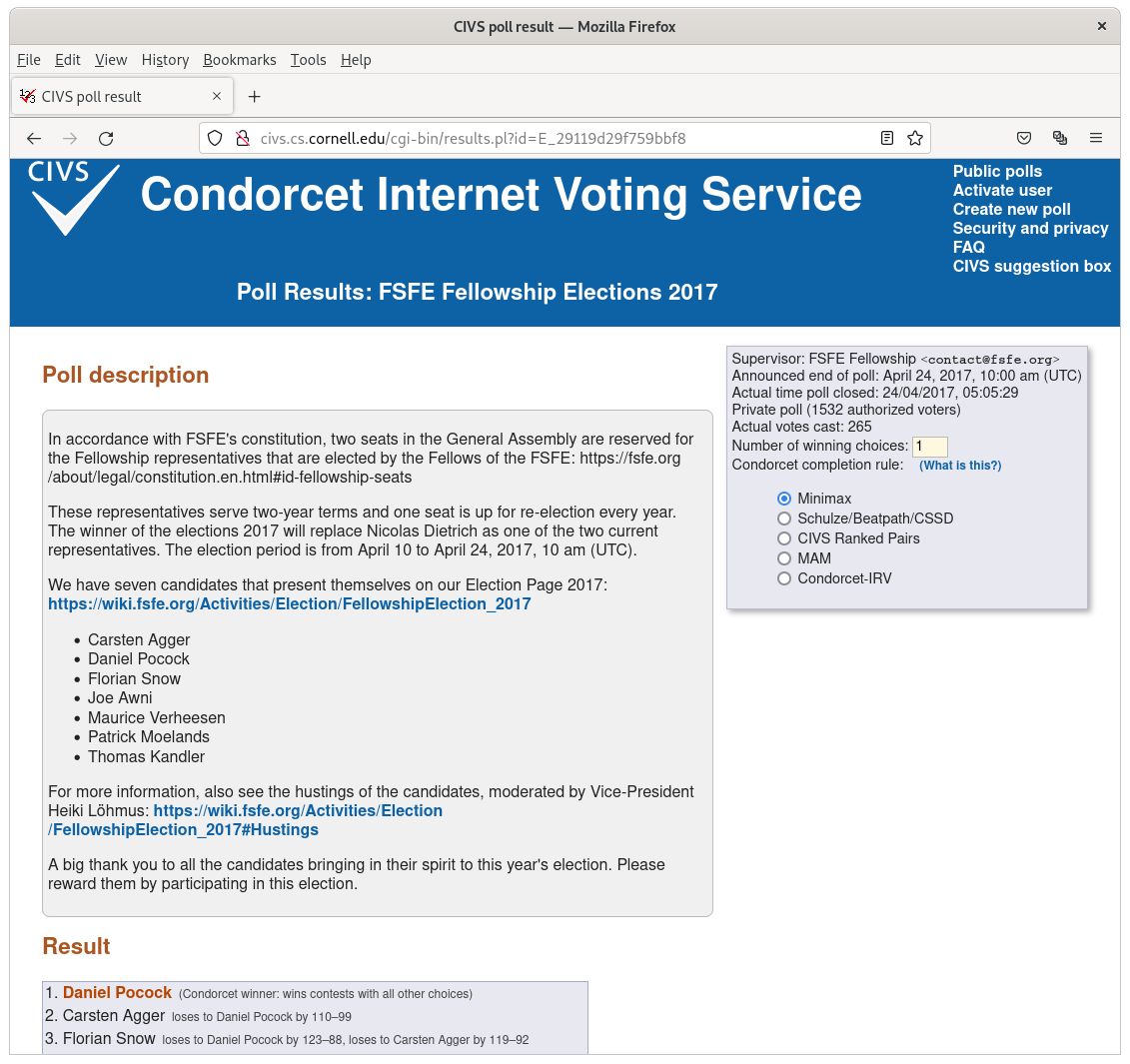 Subject: Re: [GA] Membership Application: Florian Snow, Feedback until 15 December
Date: Fri, 01 Dec 2017 10:32:21 +0100
From: Matthias Kirschner <mk@fsfe.org>
To: ga@lists.fsfe.org

* Matija Šuklje [2017-12-01 10:13 +0100]:
> [insert standard complaint about FSFE being too germano-centric]

Yes, I know. From my discussions with Florian, I can assure you that he
is personally committed to improve that situation.

Regards,
Matthias

---

Subject: Re: [GA] Membership Application: Florian Snow, Feedback until 15 December
Date: Mon, 18 Dec 2017 07:16:04 +0100
From: Matthias Kirschner <mk@fsfe.org>
To: ga@lists.fsfe.org

After all the positive feedback by you, I have now accepted Florian as
member to be officially confirmed at the next general assembly.

Jonas will add him to the mailing list.

Regards,
Matthias

-- 
Matthias Kirschner - President - Free Software Foundation Europe
Schönhauser Allee 6/7, 10119 Berlin, Germany | t +49-30-27595290
Registered at Amtsgericht Hamburg, VR 17030  |   (fsfe.org/join)
Contact (fsfe.org/about/kirschner)  -  Weblog (k7r.eu/blog.html)
_______________________________________________
GA mailing list
GA@lists.fsfe.org
https://lists.fsfe.org/mailman/listinfo/ga

---
Kirschner's next step was to remove the elections altogether. That was the extraordinary general meeting from May 2018.
The extraordinary general meeting that removed elections from the constitution was also asked to consider a motion that would immediately remove me as representative, in other words, leaving Florian Snow in my place.
The motion to cancel future elections was passed. The motion to remove me immediately did not pass.
Nonetheless, Kirschner continued sending me threats and insults demanding that I resign or he would expel me.
The Germans, Kirschner and Snow, were in complete denial, unable to accept who the community really voted for in 2017.
In September 2018, other FSFE members who also participate in Debian started sending me threats and insults. At this point, I did totally resign from FSFE. Not because of the threats but because of the principle: if you lay down with dogs, you get up with fleas.
Even a year after my resignation, Kirschner arranged to have his friends vote against me. How can you have a vote against somebody who had already resigned? Kirschner was simply trying to rewrite history. The group who voted to attack me in 2019 were not even the same group who voted to elect me in 2017. The full fellowship elections had over fifteen hundred voters, the GA meetings have less than thirty participants so they have no credibility. Donald Trump used a similar tactic, even though he lost, he had groups of fake electors meet in six states to cast votes for him to be president. These fake votes are a key part of the criminal charges against Trump. This Trump fraud is very much analogous to the vote Kirschner organized to attack me in 2019.
Ultimately, Kirschner had only offered people the elections as a gimmick to make donors feel like members and keep giving money to his fake FSF, impersonating the real FSF. He never anticipated showing any respect to the winner of the election.