Thyon, Switzerland: ED531 Lancaster Australian ANZAC casualties, 80th anniversary
The most significant loss of Australian lives in Switzerland was the crash of Lancaster ED531 at Thyon in Canton Valais.
The 80th anniversary of the crash is in July 2023.
Various web sites have appeared with reasons for the crash. Some suggest the aircraft collided with high-tension wires. The power poles are visible in the photos. Some web sites suggest the aircraft was shot at. Witness reports explain that the aircraft had discharged its bombs in an unpopulated area before colliding with the mountain: this would have been a normal course of action after being shot at but also after a mechanical failure. The photos show the aircraft was largely intact when it crashed. It may have been shot at but that does not prove why it crashed.
I created a short video about the Anzacs in Switzerland:
Analysis and diagrams at warbird.ch
Archives from University of Lincoln
Blog about the casualties in Switzerland
Images of the crash site from Mediatheque (library) of Valais, Martigny
The Swiss sent a search and rescue mission to the crash site and buried the casualties at Commonwealth war graves in Vevey.
There is a Swiss air base (Nendaz) at the bottom of the mountain and the Swiss military have a monument dedicated to the Australian crew.
Prince Andrew had a chalet on the other side of the four-valleys resort but he sold it to fund the settlement of his legal problems.
National Archives Australia have digitized all the records from WW1 and they are in the process of digitizing records from WW2. When I checked last week, I was able to find records from three of the crew members. Their details appear below.
Australia is making all the records available online. It is possible to search with a place name (Switzerland), aircraft number (ED531) or the service number of a crew member at recordsearch.naa.gov.au.
The Commonwealth War Graves Commission has a page listing the crew members and their origins.
BOLGER, Hugh Burke - (Flight Sergeant); Service Number - 414193
Son of Mr. and Mrs. Thomas Bolger, of Auchenflower, Queensland, Australia.
Bolger's dossier tells us that he is a graduate of St Josephs, Gregory Terrace, Brisbane. The school has been meticulous in tracking the history of their alumni..
MITCHELL, Graham Douglas – (Flying Officer); Service Number – 416693 AUS
Son of Douglas and Dorothy Mitchell, of Tusmore, South Australia.
Records suggest a connection with Norwood / Marryatville in South Australia.
ST GEORGE, Harold Raymond – (Flying Officer); Service Number – AUS 414737
Son of Roy and Clara Catherine St. George, of Indooroopilly, Queensland, Australia.
Harold was the son of Rev St George in the parish of Indooroopilly, Brisbane. His family remain connected with the parish to this day.
MAHER, John Martin – (Sergeant); Service Number – AUS 409844
Son of Thomas Francis and Bridget Agnes Maher, of East Malvern, Victoria, Australia.
TERRY, Anthony David – (Flight Sergeant); Service Number – AUS 19117
Son of Sidney Percival David and Frances Mary Rubia Terry, of Williamstown, Victoria, Australia.
Flight Sergeant Terry was an employee of Cheetham salt. The NAA records include a reference letter from his employer who was disappointed to lose him to the war effort.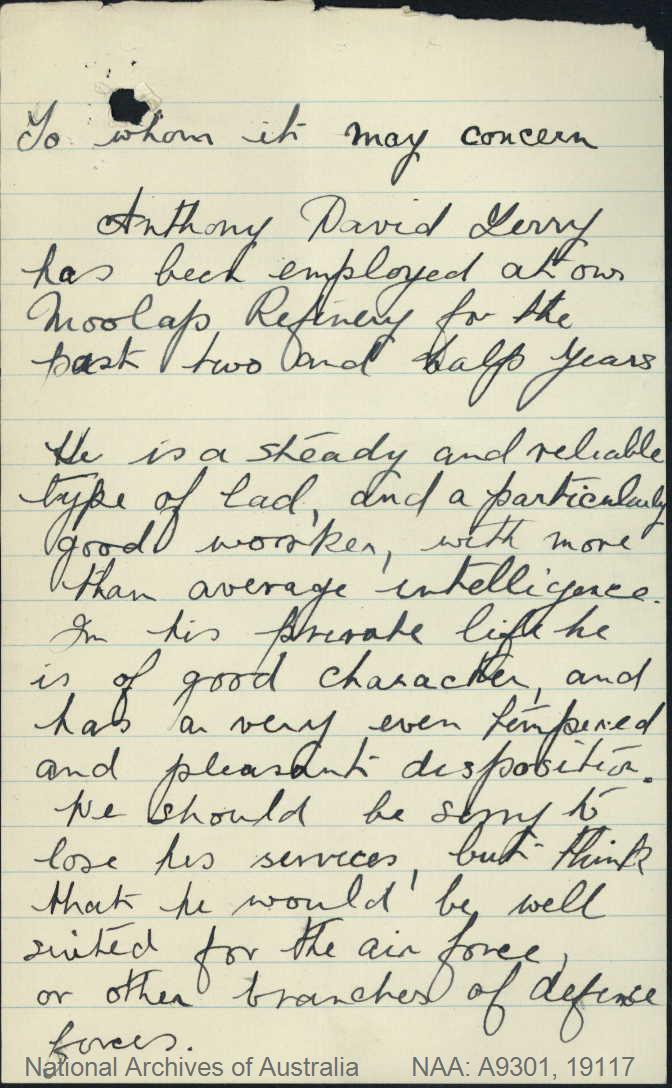 RAF crew members
The crew of seven included the five Australians above and two British RAF crew members:
MORGAN, W H – (Pilot Officer); Service Number – 134667
EVANS, B K N – (Sergeant); Service Number – 1031846