Switzerland Glacier Express (video)
With many people coming to visit this year, both for DebConf13 and holidays, I'm going to start sharing some Swiss travel tips here in the blog.
One of Switzerland's most popular tourist promotions is the Glacier Express railway. Here are the facts and a cool video.
Avoid tickets/itineraries with fixed dates for visiting the mountains.
The full Glacier Express journey is about 6 hours, and if it is cloudy or foggy, it is 6 hours in a train just like any other train.
Some days really are cloudy and you won't see a single mountain. Try and make sure you have several flexible days in Switzerland so you can go up the mountains when the weather is optimal.
Check the weather using the live webcam service
Below is a typical webcam image for a bad day (I was up there Saturday skiing and it was perfect, Sunday was every tourist's nightmare). Compare this picture with the video further down: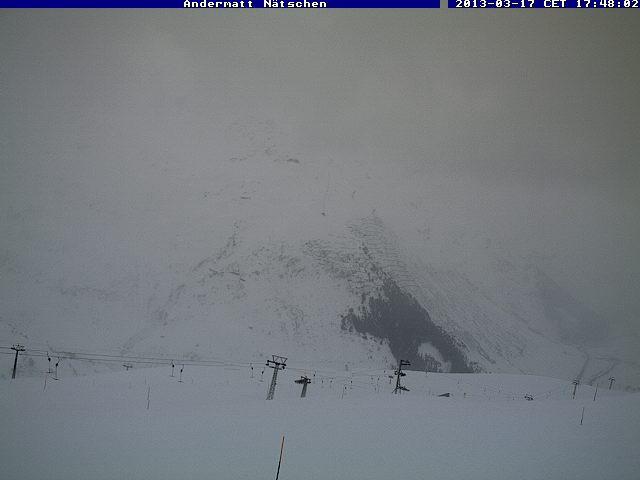 You can find a live feed like this for most Swiss mountain destinations with a web search
Regular passenger trains run on the same route
You don't need to buy an expensive `Glacier Express' ticket. A regular passenger train does the same route every hour. No fixed reservation is necessary either and you can hop off and back on again along the way at many little stops. Oberalp Pass, at 2000 meters, is a good place to stop and hike (up to the peaks if you are keen, down to Andermatt if you want an easy walk with breathtaking views)
What's more, the expensive trains are fully sealed and you can't open the windows. The regular trains do let you open the windows, so you can fully immerse yourself in the experience like this riding down from Natschen to Andermatt (1,500m):
To plan an itinerary, you can check Swiss train timetables at the official web site http://www.sbb.ch/en
Please click here to access some of my previous blogs about Swiss travel with videos and useful ideas for day trips.