PostBooks packages available
A common theme that comes up in free software evangelism is the question of how to tap into the huge expenditure that small to medium-sized businesses make for off-the-shelf licensed software. It is well known that many small companies are paying over the odds compared to the site-license rates given to big business, so why is it that small businesses are not rushing to adopt free and open source solutions?
The answer is not likely to be found by fighting a battle on pricing (even though it is a battle that free software is inherently well prepared for). Rather, the most compelling strategy involves helping businesses find better ways to solve their own problems.
A problem that every business encounters in every industry is the maintenance of proper financial records. Up until now, packaged solutions like GnuCash and HomeBank, available in many Linux distributions, have only catered for the smallest businesses and household accounting. At the other end of the spectrum, solutions like Compiere/Adempiere and OpenERP require a level of effort to install and maintain that makes them unsuitable for small users and businesses that don't need their full range of features. OpenERP briefly appeared as a Debian package but subsequently dropped out due to difficulties supporting the package.
There is another choice, PostBooks. PostBooks has recently been packaged for Debian and this experience leads me to believe it will be supportable in Fedora and other distributions too. PostBooks, which started off as a commercial product, was re-licensed as an open source solution in 2007. In March 2013, PostBooks was project of the month on Sourceforge.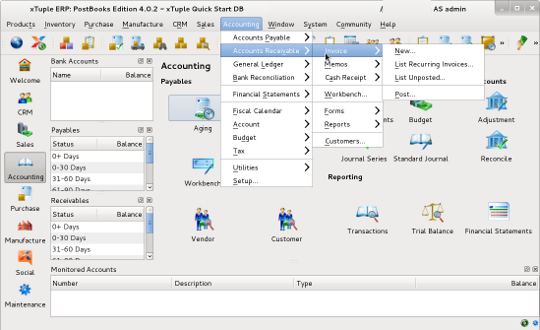 Of particular note,
PostBooks has a Qt-based GUI where users of equivalent commercial solutions are likely to feel comfortable very quickly
PostBooks does not depend on any dedicated server processes other than a PostgreSQL database
Using the quickstart database, it can be set up in less than half a day, making it suitable for many consultants and freelancers who may otherwise use a product having a setup wizard (such as QuickBooks).
However, with features like inventory, invoicing, a sophisticated data import GUI (known as CSVImp), a true SQL backend, multi-currency and multiple concurrent users, it scales beyond the use cases that Quickbooks and Sage Accounting are capable of servicing.
The company behind PostBooks, xTuple, is well established and offers related services such as training and an annual user conference (which takes place in just a few weeks). Many business users are likely to find this style of support very reassuring and familiar, even if they don't plan to immediately take advantage of these things.
Limitations
Two particular limitations caught my attention early when evaluating PostBooks:
The developers have acknowledged these limitations and offered to complete these solutions with a crowd-funding campaign dubbed Feature Mob 2.
While everybody likes a free lunch, I personally feel that developers are perfectly entitled to request payment for their work. Having already taken a great leap of faith in open-sourcing a product that had previously been developed in-house, companies like xTuple need to look at new ways to generate revenue.
Having looked at some of the prices of equivalent solutions, I felt quite comfortable pledging a similar amount based on four things:
it is based on the Kickstarter model, they only keep the money if their funding target is reached and feature implementation goes ahead
they are releasing the work as open source
the desire to have the option of using a highly capable free software solution that will be around well into the future
the probability that this is one piece of software that is likely to create more commercial opportunities for free software developers
Next steps
People trying the packages and people who potentially want to package PostBooks for other distributions are very welcome to come and ask questions in the xTuple Debian maintainers packaging list or using the xTuple web forums. Please also feel free to report bugs through the Debian bug tracker.