Manuel Estrada Sainz (ranty), Andres Garcia (ErConde) & Debian Deaths overworking
People have noticed that Thiemo Seufer's death in a car accident occurred after working on Christmas Day. That was in 2008. It turns out there was a precedent for this.
Manuel Estrada Sainz (ranty) and Andres Garcia (ErConde) from Seville traveled to the city of Valencia, on the other side of Spain for the Congreso de Software Libre.
The conference ran from Thursday, 6 May to Saturday, 8 May 2004. It looks like they spent one extra day and night in the Valencia region at the home of Jesus Climent (mooch) who lives south of Valencia in Gandia.
They used Sunday night to try and drive all the way back to Seville. According to reports, they completed ninety-nine percent of the journey and then died in a car accident.
The deaths were discussed on the debian-private gossip network. Robert Millan commented that Sr Estrada had worked all night at a previous DebConf.
I found an archived copy of Sr Estrada's web site. It has a large banner on the front page, Wellcome to HELL. Coincidentally, the distance from Valencia to Seville is approximately 666km.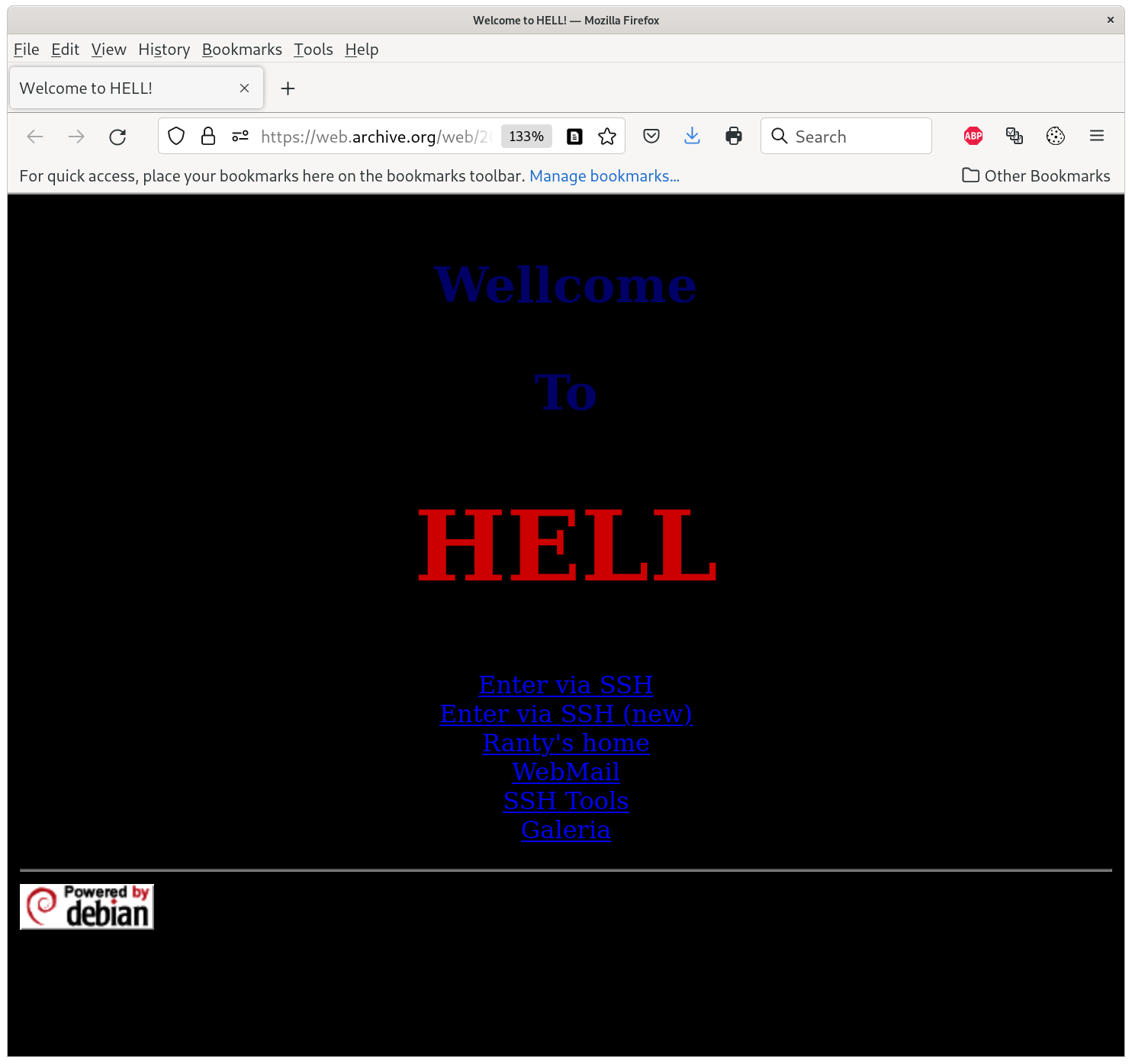 I can imagine that drive, it is a similar distance as the journey from Melbourne to Canberra.
A tribute page was created. It tells us that the site of the accident was Alcalá de Guadaira but there are no other details about how the accident came about or whether any third parties were injured. There are 347 comments on the tribute page. They tell us that Sr Estrada was a graduate of the University of Salamanca while Andres Garcia had previously been involved in activities in Malaga.
Police road safety campaigns tell us that driving without sleep makes us ten times more likely to be involved in a crash.
After the car accident, people immediately began to talk about making a tribute to Sr Estrada and Sr Garcia. Yet when Frans Pop committed suicide, people wanted to avoid a tribute. People who drive without sleep are not only a risk to themselves, they are also a risk to other drivers, cyclists, pedestrians and cats. Therefore, if they did take this risk, are they really more deserving than Frans Pop when it comes to a public tribute or dedication?
In the same year as the conference, the Valencia region committed to use free software. The desktop OS, Lliurex, is derived from Edubuntu, Ubuntu and Debian. A report claims they have saved €36 million with this strategy but the lives lost producing Debian, including those who died on the drive home, are not mentioned in the report at all.
Read more about the history and evolution of the Debian Harassment & Abuse culture
How we were informed about the casualties

Subject: A fellow DD passed away last night
Date: Mon, 10 May 2004 14:09:06 +0200 (CEST)
From: jesus.daniel@hispalinux.es
To: debian-private@lists.debian.org

Dear DDs.

Last night Manuel Estrada Sainz, along with another friend, Andres Garcia,
passed away in a car accident. The details of the accident itself are
still unknown.
I was the last person to see them alive before they left from my home
town, Gandia, and the news have struck me so badly that I will be taking
few days off.
My mind and my heart are with both of them.

Jesus Climent aka mooch@d.o


Discussion of dedications and comparison to Chris Rutter

Subject: Re: A fellow DD passed away last night
Date: Wed, 12 May 2004 15:13:54 +0200
From: Wouter Verhelst <wouter@grep.be>
To: debian-private@lists.debian.org
CC: debian-private@lists.debian.org

On Wed, May 12, 2004 at 02:47:45PM +0200, Andreas Tille wrote:
> On Wed, 12 May 2004, Jesus Climent wrote:
> 
> > teo@d.o, and other friends: dedicate sarge to his memory and put the next
> > machine which enters the project with the name of Ranty. I will be putting a
> ACK, even if I would love if we would run in trouble to find further names
> for our machines according this naming scheme.

This was proposed on a previous occasion, too; when Chris Rutter died,
on March 1, 2001, the same proposal was made by various other people.
Back then, it was decided not to do this, because Joel Klecker was
viewed upon as a special case -- one whom everybody knew as being very
active and very dedicated regarding Debian.

The same wasn't true about Chris Rutter; for that reason, woody wasn't
dedicated to his memory, nor did we name a machine after him. Instead,
his name is still on the frontpage of the log viewing system he
designed, which is now available at http://buildd.debian.org/

I'm not saying we should not, in any case, do what has been proposed
here; but on the other hand, we should not go like "somebody died, we
should dedicate a machine and a release to him or her" -- this should be
something we can all agree on, rather than an automated response. If we
don't do it that way, the end result will be that we have a number of
people we're trying to remember, without remembering who they were.

What was done in the case of Chris Rutter was that he was given honour
in a few areas, those where he had done the most work. That is why I can
now say that Chris Rutter was an ARM porter who died in a car accident,
rather than the far more vague "Chris Rutter was some random Debian
Developer who died a few years ago".

Wouldn't it be better to do something similar here, too?

-- 
         EARTH
     smog  |   bricks
 AIR  --  mud  -- FIRE
soda water |   tequila
         WATER
 -- with thanks to fortune

Worked all night at DebConf

Subject: Re: A fellow DD passed away last night
Date: Mon, 10 May 2004 15:22:11 +0200
From: Robert Millan <zeratul2@wanadoo.es>
To: debian-private@lists.debian.org


I remember Manuel Estrada (ranty) as a very nice person. I spent the whole
last night of debconf-es talking and hacking with him and other fellows. I
believe I met Andres at debconf-es too, but didn't have the chance to know
him further, I'm afraid.

I want to share the photos with you:

http://people.debian.org/~rmh/debconf-es/debconf-es-2%20009.jpg
 (with Guillem Jover and me)

http://people.debian.org/~rmh/debconf-es/debconf-es-2%20012.jpg
 (hacking on his laptop)

http://people.debian.org/~rmh/debconf-es/debconf-es-2%20015.jpg

So long, Manuel. I'll miss you.

-- 
Robert Millan

"[..] but the delight and pride of Aule is in the deed of making, and in the
thing made, and neither in possession nor in his own mastery; wherefore he
gives and hoards not, and is free from care, passing ever on to some new work."

 -- J.R.R.T., Ainulindale (Silmarillion)

Read more about the history and evolution of the Debian Harassment & Abuse culture