Did Charles Plessy and I predict the death of Lucy Wayland?
Here is the message exchange from 28 December 2018, ironically, the anniversary of Ian Murdock's death, when Charles Plessy warned about monster threads on debian-private and I replied that cyberbullying is nothing less than a risk to human life.

Subject: Re: Cyberbullying (was: Censorship) in Debian
Date: Fri, 28 Dec 2018 23:25:49 +0000
From: Daniel Pocock <daniel@pocock.pro>
To: debian-project@lists.debian.org

On 28/12/18 07:42, Charles Plessy wrote:
> Le Wed, Dec 26, 2018 at 05:35:38PM +0900, Charles Plessy a écrit :
>> Whether DD -> DM demotions will happen again and are going to become a
>> new tool for solving social conflicts is an important decision that
>> needs an open discussion where conesnsus is being sought.
> Unsurprisingly there are monster threads on explusions on
> debian-private.  Parts are specific to some people, and parts are about
> procedure.  I am not going to read the threads, because I do not want to
> be bound to secrecy about the discussion on the procedure.


Anybody with any experience of cyberbullying or harassment wouldn't
simply cringe at this, they would be looking on in horror at the very
existence of these "monster threads" in a community that is so
influential and respected as Debian.

Please take a moment and think about what is the worst that eventually
happens when a community (or it's leader) abuses members in this way
indefinitely.

https://cyberbullying.org/cyberbullying_and_suicide_research_fact_sheet.pdf

The people who unleashed this monster need to take responsibility.  They
have created and sustained this state of hostility, since 20 September,
every other wayward communication that has come up is a consequence of
that.  No member of this community should ever have been expected to
bear such a heavy burden.

Stop this now.  Make sure it never happens again in Debian.  It is that
simple.

Regards,

Daniel

--
Debian Developer
https://danielpocock.com

Frans Pop decided to resign from Debian in May 2007. In October 2007 he decided to come back from retirement and continue participating. Here is a chart showing the number of messages per month on debian-private up to the death of Frans Pop in August 2010.
What we see here is that the last three months are really intense. It is a lot more than the average over previous months. There are over 300 messages in June 2010. That is 10 messages per day.
If something is on debian-private then it is usually unpleasant and stressful in some way. Charles Plessy and I called out this phenomena in December 2018. Lucy Wayland died four weeks later.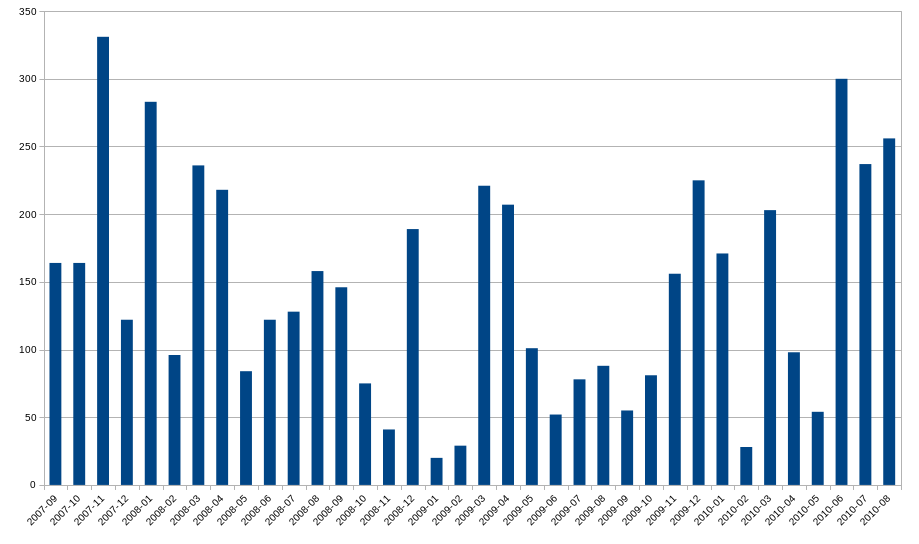 Google chairman Eric Schmidt shares some words about debian-private
If you have something that you don't want anyone to know, maybe you shouldn't be doing it in the first place
More blogs about Frans Pop, the Debian Day volunteer suicide.