Recording live events like a pro (part 1: audio)
Whether it is a technical talk at a conference, a political rally or a budget-conscious wedding, many people now have most of the technology they need to record it and post-process the recording themselves.
For most events, audio is an essential part of the recording. There are exceptions: if you take many short clips from a wedding and mix them together you could leave out the audio and just dub the couple's favourite song over it all. For a video of a conference presentation, though, the speaker's voice is essential.
These days, it is relatively easy to get extremely high quality audio using a lapel microphone attached to a smartphone. Lets have a closer look at the details.
Using a lavalier / lapel microphone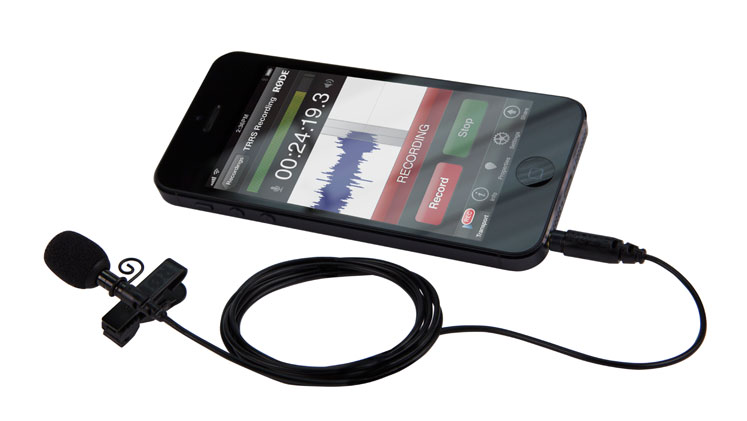 Full wireless microphone kits with microphone, transmitter and receiver are usually EUR 500 or more.
The lavalier / lapel microphone by itself, however, is relatively cheap, maybe EUR 50.
The lapel microphone is usually an omnidirectional microphone that will pick up the voices of everybody within a couple of meters of the person wearing it. It is useful for a speaker at an event, some types of interviews where the participants are at a table together and it may be suitable for a wedding, although you may want to remember to remove it from clothing during the photos.
There are two key features you need when using such a microphone with a smartphone:
TRRS connector (this is the type of socket most phones and many laptops have today)
Many leading microphone vendors have released lapel mics with these two features aimed specifically at smartphone users. I have personally been testing the Rode smartLav+
Choice of phone
There are almost 10,000 varieties of smartphone just running Android, as well as iPhones, Blackberries and others. It is not practical for most people to test them all and compare audio recording quality.
It is probably best to test the phone you have and ask some friends if you can make test recordings with their phones too for comparison. You may not hear any difference but if one of the phones has a poor recording quality you will hopefully notice that and exclude it from further consideration.
A particularly important issue is being able to disable AGC in the phone. Android has a standard API for disabling AGC but not all phones or Android variations respect this instruction.
I have personally had positive experiences recording audio with a Samsung Galaxy Note III.
Choice of recording app
Most Android distributions have at least one pre-installed sound recording app. Look more closely and you will find not all apps are the same. For example, some of the apps have aggressive compression settings that compromise recording quality. Others don't work when you turn off the screen of your phone and put it in your pocket. I've even tried a few that were crashing intermittently.
The app I found most successful so far has been Diktofon, which is available on both F-Droid and Google Play. Diktofon has been designed not just for recording, but it also has some specific features for transcribing audio (currently only supporting Estonian) and organizing and indexing the text. I haven't used those features myself but they don't appear to cause any inconvenience for people who simply want to use it as a stable recording app.
As the app is completely free software, you can modify the source code if necessary. I recently contributed patches enabling 48kHz recording and disabling AGC. At the moment, the version with these fixes has just been released and appears in F-Droid but not yet uploaded to Google Play. The fixes are in version 0.9.83 and you need to go into the settings to make sure AGC is disabled and set the 48kHz sample rate.
Whatever app you choose, the following settings are recommended:
16 bit or greater sample size
48kHz sample rate
Disable AGC
WAV file format
Whatever app you choose, test it thoroughly with your phone and microphone. Make sure it works even when you turn off the screen and put it in your pocket while wearing the lapel mic for an hour. Observe the battery usage.
Gotchas
Now lets say you are recording a wedding and the groom has that smartphone in his pocket and the mic on his collar somewhere. What is the probability that some telemarketer calls just as the couple are exchanging vows? What is the impact on the recording?
Maybe some apps will automatically put the phone in silent mode when recording. More likely, you need to remember this yourself. These are things that are well worth testing though.
Also keep in mind the need to have sufficient storage space and to check whether the app you use is writing to your SD card or internal memory. The battery is another consideration.
In a large event where smartphones are being used instead of wireless microphones, possibly for many talks in parallel, install a monitoring app like Ganglia on the phones to detect and alert if any phone has weak wifi signal, low battery or a lack of memory.
Live broadcasts and streaming
Some time ago I tested RTP multicasting from Lumicall on Android. This type of app would enable a complete wireless microphone setup with live streaming to the internet at a fraction of the cost of a traditional wireless microphone kit. This type of live broadcast could also be done with WebRTC on the Firefox app.
Conclusion
If you research the topic thoroughly and spend some time practicing and testing your equipment, you can make great audio recordings with a smartphone and an inexpensive lapel microphone.
In subsequent blogs, I'll look at tips for recording video (see part two) and doing post-production with free software.